How does it work?
1. Sign-up and create a business account with the S.B.I. Affiliate program: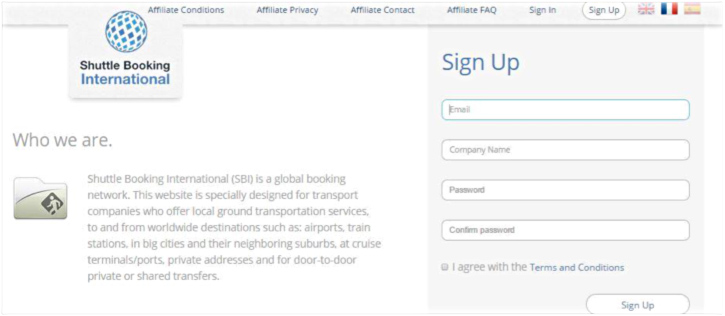 2. Consult your inbox and confirm your e-mail address to activate your account.
REGISTRATION
Fill out the S.B.I. Registration Form and submit it to our Affiliate Administrator for validation.
When creating a business account on the S.B.I. booking network, a unique Affiliate ID will be assigned to your company upon registration. All activities of offers and reservations will also be assigned. Your application will be studied carefully by the Affiliate Administrator. Please provide us with all pertinent information regarding your company in order to facilitate the validation process.
BUSINESS ACCOUNT VALIDATION
The complete application will be available from inside your business account, ready for publishing your offers.
The registration procedures are subject to strict conditions for filtering and controlling information provided by companies that register on S.B.I.'s platform. S.B.I. reserves the right to investigate further, by asking you to provide more documentation or company-related certification, which will be necessary for our final decision to activate your Business Account.

Add Routes Application. How does it work?
Learn more about the Add Offer application once you log into your business account.
Adding personalized offers to the S.B.I. search engine is an easy process. You can create an offer in two minutes, with our specially-designed tool that helps you create and publish personalized offers, which are immediately available in our search engine, ready to be reserved by visitors.
Start adding new locations, in areas where your company operates.
1. Select the menu: Add a New Location, then enter: Type of Location and Location Name.
It will appear immediately in the database, available for creating your offers.
Learn more about how to add your offers by clicking here.
2. Select the type of service you want to offer. We offer Private Transfers and Shared Transfers. The pricing may vary, according to the type of transfer selected.
3. Manage your pricing options.
4. View your routes. Feel free modify your routes and pricing options any time.


5. Start getting reservations. Greet your clients at their arrivals or departures.

6. View and print your reservation details. Meet your clients and transport them to their destinations and get paid. Sign up now!
We invite you to look over to our General Terms & Conditions, Privacy Statement and FAQ in the Affiliate's section. If you have any other questions, or need more information concerning the Affiliation Program, please contact us.
Learn more about Shuttle Booking International booking network. Visit our website: www.shuttle-booking-international.com